I am pleased to be showing two of my works in the 2021 Jerusalem Biennale. The first at Kol HaOt Gallery and the second will be shown at ArtSpace Gallery. In addition one of my artworks is for sale online at Hamiffal art site. Details below:
48: Creative Quarantine
#Venues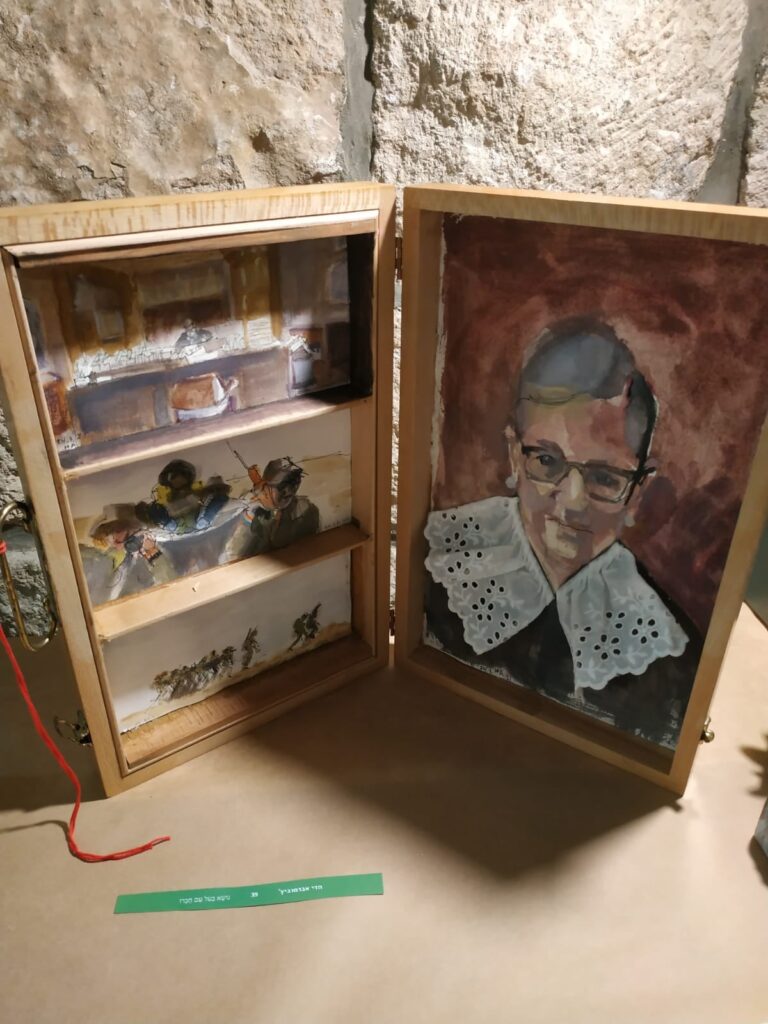 Kol HaOt Gallery provided a temporary gift of time and space from the pandemic. We 48 artists each took a phrase from Pirkei Avot 6:6 and within 48 hours created an artwork. I worked from: One who shares in the burden of their colleagues.
In my work Book of Shared Burdens, I focused on Justice Ruth Bader Ginsburg (1933-1920) and women soldiers in Israel.
RBG shared the legal burdens of the nation but took on a greater personal burden by retaining her seat – despite illness – to maintain the US Supreme Court's progressive balance.
Women soldiers who choose combat duties drill carrying a soldier on a stretcher, as do men. These are the daughters and sisters doing their parts.
Both exceeded expectations.
(Photo: Yaal Herman)
When: November 11 – 15th, 2021
Hours:
Monday-Thursday, 9 am – 5 pm
Friday, 9 am – 3 pm
Registration: Open
Where: Kol HaOt Gallery, Mitchell Park, Hutzot Hayozer, Jerusalem
Private Home ArtSpace Event at the JB2021
#PHASEs
When: November 11 – 15th, 2021
Hours:
Monday-Thursday, 9 am – 5 pm
Friday, 9 am – 3 pm
Registration: Open
Where: Artspace Story | Linda Zisquit
#15
HaZefira St 5, Jerusalem, Israel
Online benefit sale of art at Hamiffal
The Miffal (The Factory) is a central Jerusalem art and cultural community housed in a once-abandoned building. They created a benefit sale to feature Jerusalem artists. I am happy to be among the artists participating. The sale will also feature many other talented Jerusalem-based artists, all donating portions of the proceeds to support the host organization and helping sustain a vibrant Jerusalem art scene.
I created this work when collaborating with composer and violinist Tanya Susskind. She rehearsed Bach Partitas for her audience of one, while I made a series of drawings influenced by the tones and rhythms she produced.

https://jlmart.co.il/en/product/temima-the-violinist/
https://jlmart.co.il/author/Heddy-Abramowitz/
Hamaarvim Street 2
Phone: 02-6524693