Collages
About the Conversation,
Mixed media, 30 x 36 cm, 2017
Placed on hand-marbled endpaper, a postcard from 1967 Addis Ababa (year of the 6-Day-War) is broken into a house structure with gardens, juxtaposed with a renaissance-era dandy, and placed on an Israeli envelope summoning a soldier to reserve service. A branch of a Jerusalem evergreen cypress tree and an Israeli stamp of children and flowers interact with the German-language title.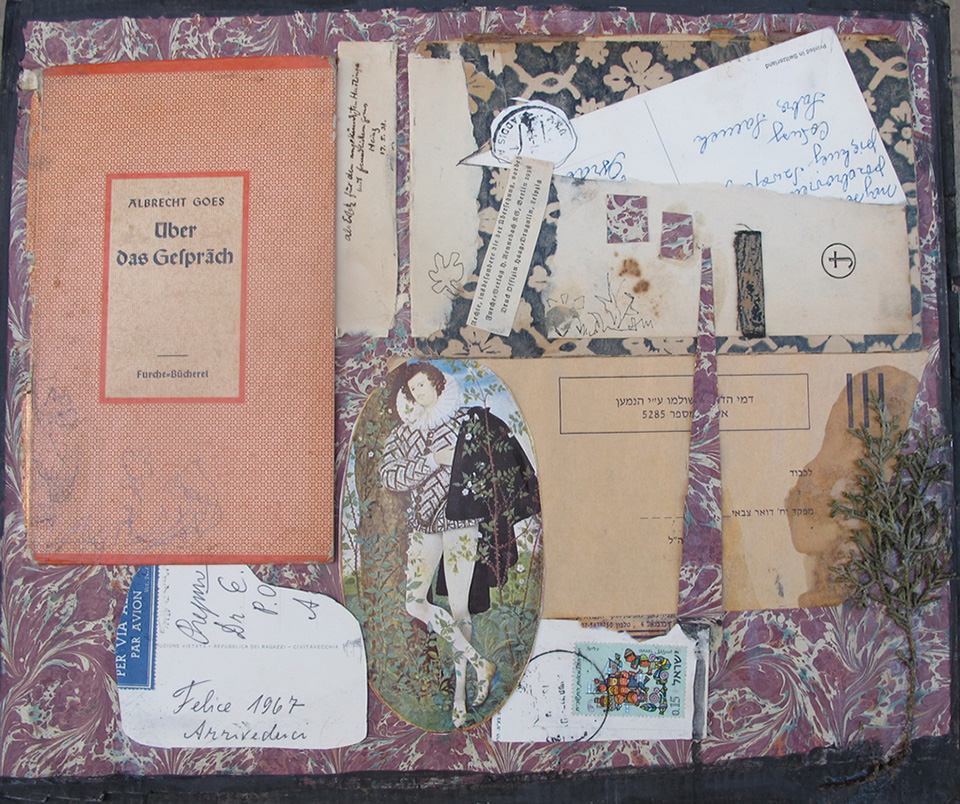 Cry the Beloved Country
Mixed media, 25 x 36 cm, 2017
Blue hand-marbled endpapers form a blue sea for three postcards from the early '60s written in European languages to Jerusalem addresses, which together form a house, the center made by a triangle from Israeli army reserve duty call. An olive branch is drawn across the cover of the Hebrew translation of the South African novel and joined by leaves from an olive tree.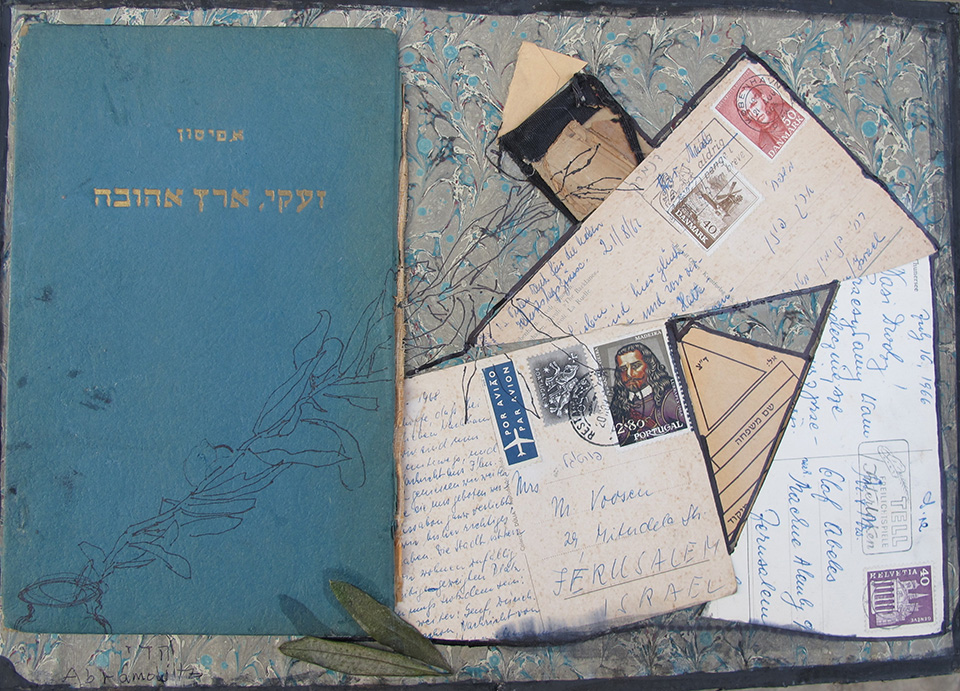 Go forth and multiply
Mixed media collage 16 x 52 cm, 2008
Using a discarded Hebrew Bible cover as its base, two postcards recall the zeitgeist of a new country. The postcard on the left is of a group of children at the Ramat Rachel Kibbutz sitting under the sculpture of Rachel of the Bible. Ramat Rachel overlooks the site of Rachel's Tomb. The sculpture Rachel our Mother was created by David Polus in 1953.
The right side is a Hebrew New Year's greeting card, typically sent to relatives. This one was mailed in 1955 from Beit Shemesh to a shikun (cheap public housing) block in Talpiot, adjacent to the kibbutz, with the not-so-subtle message to the recipient to start a family.

Joy of the Poor
Mixed media, 24 x 30 cm, 2008
Natan Alterman, the influential national poet of Israel, wrote Joy of the Poor in 1941, a compilation of poems from a ghost man who remained obsessed with the live woman he loves.
The book title contrasts with the postcard that drew me to place them in one world. The postcard of Justice Ministry La Chapelle in Paris was sent in 1948 (year of Israel's War of Independence), to Edinburgh, Scotland with a French stamp to "Miss Judith Yellin" of the family who was among the founders of Jerusalem's tony Rehavia neighborhood. Perhaps she was on a "Grand Tour" of Europe; later she became an artist. Another scrap of handwriting shows 1947 as its date. The contrasts show the extremes of the times.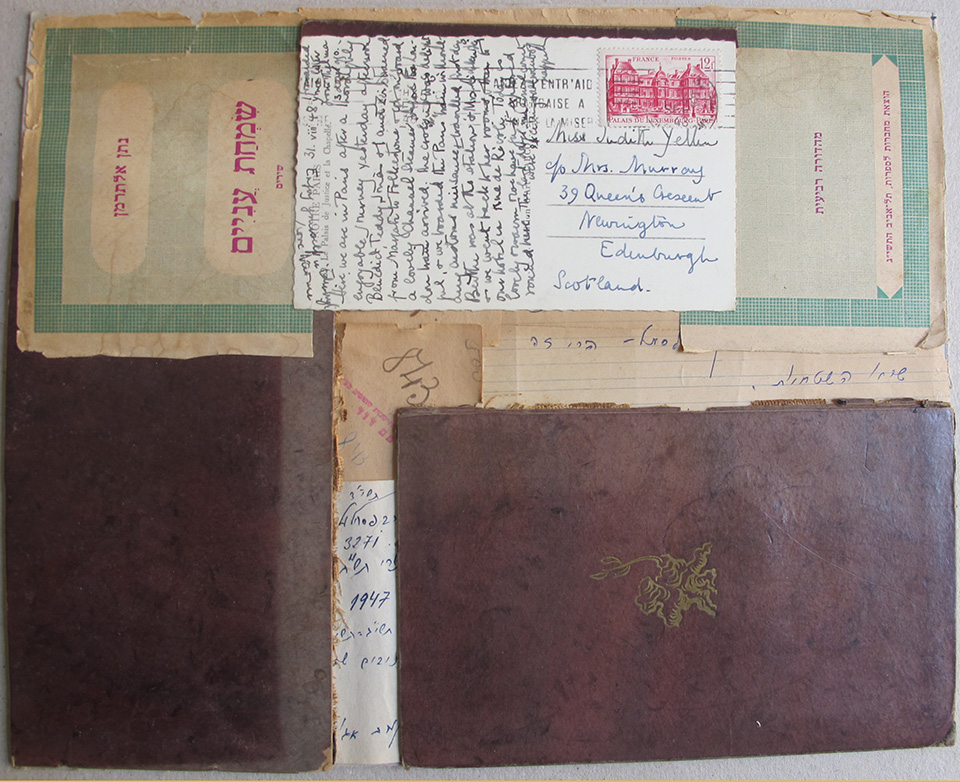 New York Requiem
Collage 21 x 35 cm, 2008
The blue hand-marbled endpaper references waters surrounding Manhattan, set off with a pair of ancient Egyptian glass vases serving as holders for illuminated twin tower Shabbat 'candles,' a singing angel from the Met, Israeli poppy flowers (referencing fallen soldiers), an Israeli stamp for IDF reserve duty, the spine of A Tree Grows in Brooklyn, an ink drawing of wilting poppy flowers; combine to mark aspects of memory of the Twin Towers tragedy.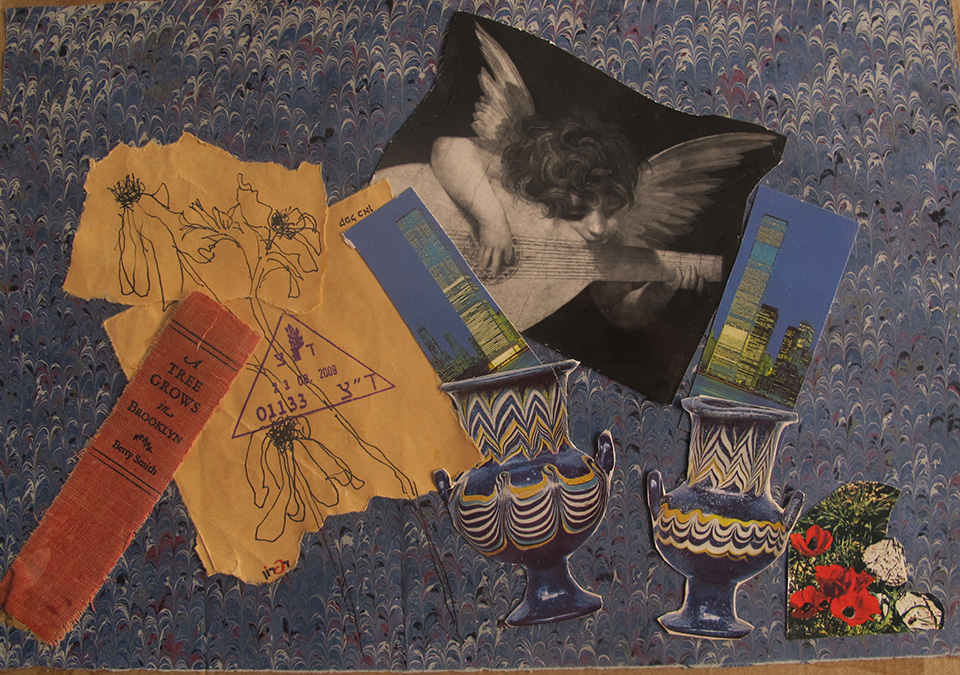 Wörterbuch (German-English dictionary)
Mixed media, 28 x 25 cm, 2008
This simple black-and-white composition is based on a cover of a German-Hebrew dictionary and two postcards, combining in them two of the non-English languages of my childhood. My father's family was from Weiner-Neustadt, Austria. My mother was from Transylvania, then-Hungary and now Romania. German was one of the six languages she spoke that she learned as an inmate in Auschwitz and other Nazi camps. The only grandparents that I knew, refugees, were German-speaking and when we visited, mostly German was spoken. German represents for me both the language of their persecutors and the warm hug of home.

The top image is the message from a souvenir postcard sent from the spa town in Hesse, Germany – with the word Germany handwritten in Hebrew – to a couple living in the upscale Jerusalem Rehavia neighborhood in 1970. The bottom image is of nuns in their habits in front of the Notre Dame Cathedral in Paris, from 1963, also written in German.
These elements reverberate with other historical and personal associations.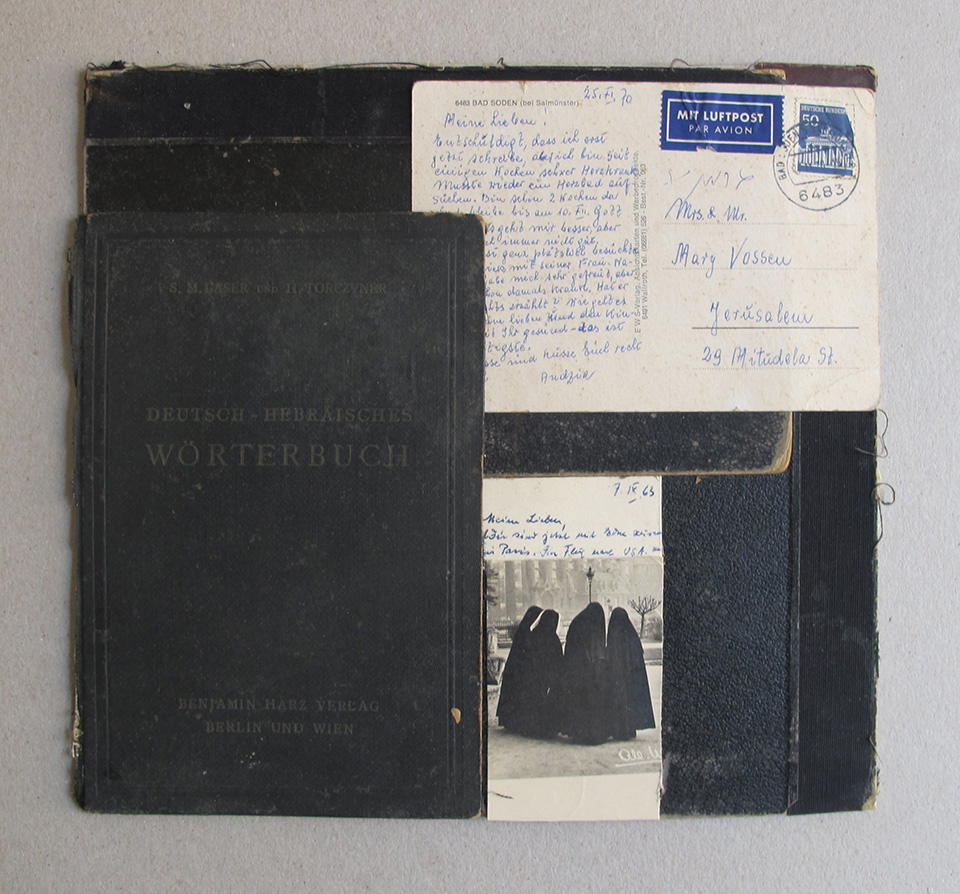 Finding Her Home
Mixed media, 24.5″ x 30.5″ (62 x 77.5 cm), 2021

This work was created for the 50th anniversary of the first woman rabbi, in the exhibit Holy Sparks, giving tribute to the many firsts of women entering the rabbinate. It is sponsored and produced by Hebrew Union College in NY and is traveling to multiple venues. I was asked to create a work honoring Rabbi Kinneret Shiryon who leads a synagogue in Modi'in, Israel.
Combining book parts, liturgical references and known cultural touch points, I try to make the elements jiggle together visually, creating dissonant associations.
As a veteran Israeli by choice, I am aware of the significant fault lines that Rabbi Shiryon traversed to make her mark as the first woman rabbi in Israel.