Femininity in Spirit, Matter and What Lies Between Them
at the Moshe Castel Museum, Ma'aleh Adumim
in honor of International Women's Day 2022.
curated by Dr. Batsheva Goldman-Ida.
Gallery talk changed to  April 8 at 11 a.m.
To contact: info@castelmuseum.co.il
02-535-7000 Link to the museum site: https://www.castelmuseum.co.il/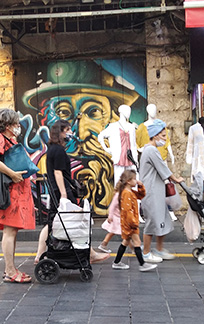 Age of Women by Heddy Abramowitz 2021
digital print 45 x 30 cm
Age of Women is a digital photograph taken in Jerusalem's Mahaneh Yehuda market before Rosh Hashannah. We see a group of pedestrians midstride that spans the ages of women. The scene is dwarfed by the image of a painting on a stall door of a haredi (ultra-Orthodox) man by graffiti artist Solomon Souza, and a pair of faceless female mannequins who seem to be observers of the procession.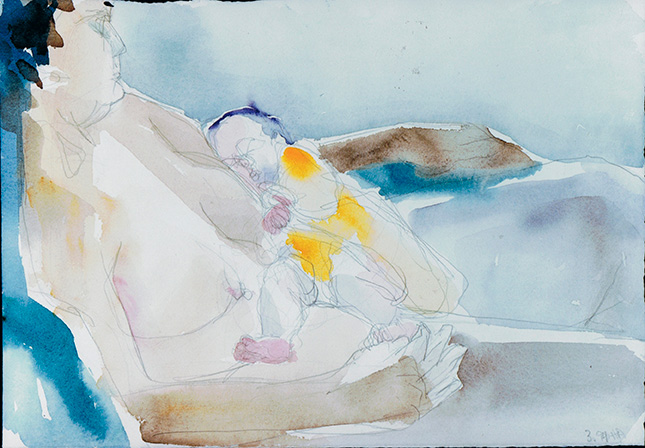 After Nursing by Heddy Abramowitz 1994
aquarelles and graphite 23 x 34 cm
This work shows the intimacy of the infant following breastfeeding with the exhaustion of the mother as if she herself was depleted. As a nursing mother, it was a feeling that was very familiar to me. Motherhood for many is a struggle to find the balance of parenting while holding on to personal identity.